AMG® Performance Center in Carlsbad, CA
Experience the only AMG® Performance Center in San Diego County. Step into the world of performance and experience the AMG® brand with all five senses – from the powerful sound of the engines to the smell of the leather to the unmistakable design of our vehicles. This is the essence of dynamism, performance, and exclusivity.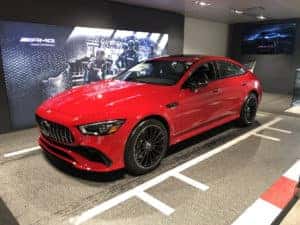 Just like us, our customers are rarely satisfied with the status quo. That's why we not only offer exclusive Mercedes-AMG® vehicles but also enable customers to experience our brand's motorsport DNA up close through the design of our showroom and AMG® Experts trained on the racetrack. The same applies no matter what your interest, be it a compact car, a sedan, an imposing SUV or a spectacular sports car.
In our AMG® Performance Center, you can gain an insight into what makes the AMG® brand so special – first-class quality, motorsport DNA you can feel, and sheer love of performance cars. Experience Driving Performance up close and visit our AMG® Performance Center today.